Airplane Intel Podcast Episode 65 Show Notes
This week, two experts reveal everything you need to know about owning, flying, and maintaining the fastest single-engine turboprop in production today – the TBM 850 and 900-series by Daher Aircraft Be sure to scroll down for the full video, more photos, specs, and more!
Listen to Episode 66 - Hit the Play Button!
Carson founded Turbine Aircraft Logistics in 2013, the parent company to FlyTBM, with a specific focus to support owners of TBM aircraft. Carson has a degree in Aeronautics from Embry-Riddle Aeronautical University, holds an airline transport pilot certificate, certified flight instructor, airframe and powerplant mechanic with inspection authorization. Carson has accumulated 8,000 hours of flight time, and 2,500 hours in TBM aircraft. Carson also works in developing software tools and is passionate about using technology to make better decisions and streamline logistics.
Carson's roles with FlyTBM are multifunctional. He provides flight instruction/mentorship for TBM owners, helping them become proficient TBM pilots. His services include technical support for owners/pilots. He provides maintenance oversight of service centers, while preforming light maintenance on the aircraft. Carson conducts compliance audits, reviews service invoices, works with the FAA for authorizations on behalf of owners, and develops systems to streamline processes for aircraft owners.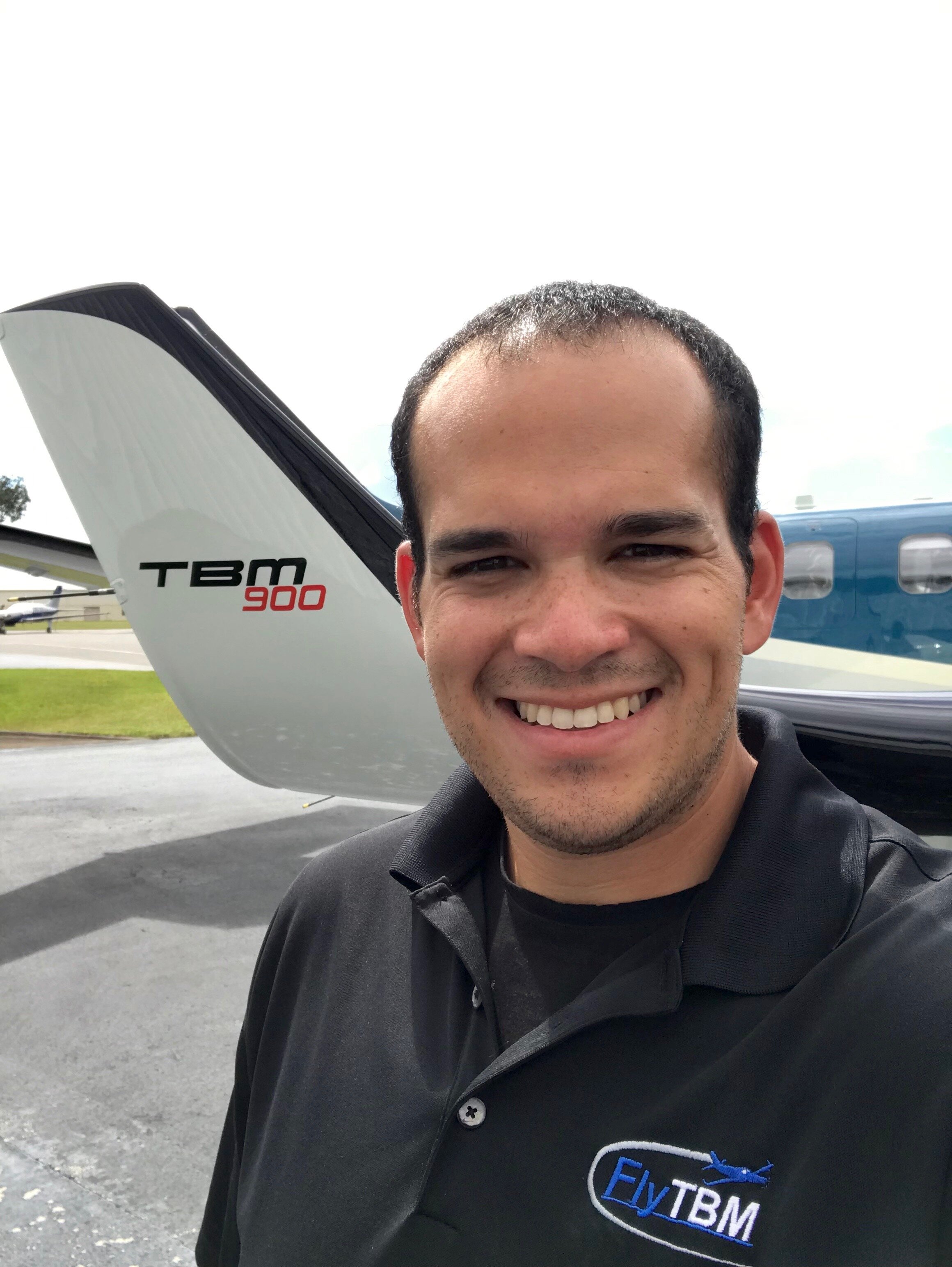 Ricardo Rivera is an Aircraft Analyst and Mechanic with FlyTBM and holds a Bachelor's of Science in Aviation Business Administration from Embry Riddle Aeronautical University. He holds a Private Pilot certificate while also having completed Formal Factory Maintenance Training through Daher in Pompano Beach, Florida for TBM aircraft.
Ricardo's role as an Aircraft Analyst with FlyTBM has him ensuring each owners aircraft are ready to fly providing maintenance oversight, compliance tracking, assisting with research for aircraft acquisitions, and assisting TBM owners with technical questions about their aircraft.
Ricardo has worked as a technician with a Daher Authorized Service Center, providing him with unique practical knowledge and experience working on all TBM models. Ricardo's role as a TBM technician has him providing technical support to owners/pilots, coordinating maintenance with service centers, providing assistance with AOG events, assisting with post-maintenance test flights, and keeping aircraft clean and looking their best.
Virtual Pilot Shop Powered By CRAZEDpilot
Get everything you need to be a proficient pilot, responsible aircraft owner, and happy avgeek. Upgrade your ratings, get aviation apparel, and even get aircraft parts and accessories all in one place and at the lowest prices!
Send Us Your Questions & Feedback!